About the Program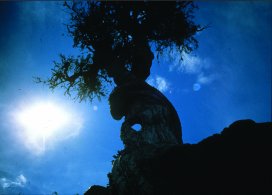 One Sky, Two Views uses Native American sky stories to present concepts of space science. The program draws from the combined expertise of Native sky knowledge and the space science research community in an effort to increase awareness of and interest in space science among Native American youth in Wisconsin and the upper Midwest. We seek to present current space science themes in a manner both respectful and complementing of traditional Native American views of the natural world and convey to students the compatibility of a space science career with their cultural identity. This exchange of knowledge and understanding will also greatly benefit the broader community of Midwestern students, and learners of all ages and cultural heritage.
---
Opportunities
Visiting Scientist Program for Native American Schools
This program brings space scientists to Native American schools in Wisconsin and includes inquiry-based presentations on current topics by space experts in earth and space science. It also focuses on the creation of student artwork depicting traditional star stories that will be used for a Cultural Conference and a book to be published later.
Native American and Space Science Cultural Conference
The conference will be a convergence of Native elders, western astronomers, and middle school students. Attendees will exchange cultural knowledge using the "star stories" theme as a focal point. Featured speakers from the scientific and Native American communities will encourage dialogue and a poster session of student artwork will further enhance communication and expression of the "Two Views."
Elementary and Middle School Teacher Professional Development Program
This program will impart current space science content, relevant Native Skylore, and strategies for teaching space science in the context of Native sky knowledge. It will focus on educators in schools with high Native American student enrollment. Information will be presented in a workshop, which will evolve over a three year period based on participant evaluation.
One Sky; Two Views: a Middle School Book Presenting Complimentary Themes in Space Science and Native American Skylore
The book, tentatively entitled, "Star Stories: Expanding the Cultural Universe," will be based on transcripts of discussions and presentations from the "Star Stories" cultural conference. It will also feature artwork created by Native American students for the Visiting Scientist program. Our goal is an interdisciplinary product with broad appeal to students and teachers in Native and non-Native classrooms in and around Wisconsin.